80w portable engrave acrylic mini machine use linear fuideline. the linear guideline is characterized with long service life with high speed, high accuracy and smooth linear motion. 80w portable engrave acrylic mini machine can cut many materials, such as acrylic, wood planks, bamboo ware, double color board, paper, leather, shell, coconut, shell, ABS board, etc.
Features
Smart size Easy to put and work.
3 in 1 closed beam simple and generous.
150mm stainless steel up and down table with ball screw,Higher accuracy.
"Big eye" design,Transparent acrylic window,easy to view.
Turn off the power to continue engraving. Open cover with protection.
Stainless steel hollow table,Eject smoke well,never rust.
Up-down work table,use ball screw transmission system.
High-efficiency laser tube,excellent laser beam long life time 4000-10000hours.
Professional control system.
Technical Parameter
Model BCL0503MU BCL0605MU
Working Area 500*300mm 600*500mm
Laser Power 40W 40W/80W
Laser Type CO2 Sealed Laser Tube, 10.6μm
Cooling Type Water Cooling
Engraving Speed 0-60000mm/min
Cutting Speed 0-40000mm/min
Laser Output Control (0-100% Set by Software )
Min. Engraving Size Chinese: 2.0mm*2.0mm, English Letter: 1.0mm*1.0mm
Highest Scanning Precision 4000DPI
Locating Precision ≤+0.01mm
Controlling Software DSP Control System
Graphic Format Supported DST PLT BMP DXF DWG AI LAS,etc
Compatible Software TAJIMA,CORELDRAW,PHOTOSHOP,AUTOCAD,etc
Color Separation Yes
Drive System High-precision 3-phase Stepper Motor
Auxiliary Equipments Exhaust Fan and Air Exhaust Pipe
Power Supply AC110V/220V+10%,50HZ/60HZ
Working Environment Temperature:0-45℃,Humidity 5-95%(No Condensate Water)
Optional Spare Parts Honeycomb Worktable, Rotary Device,Auto-focus Device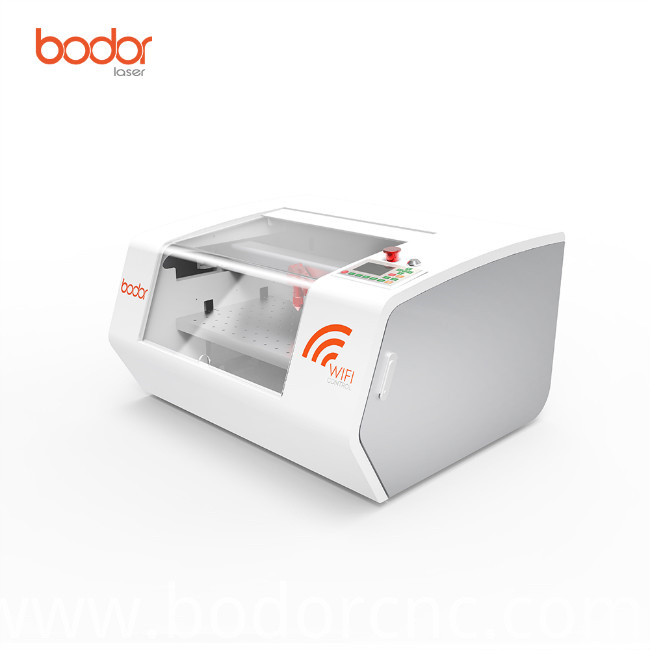 Product Categories : Laser Engraving Machine > Mini Laser Engraving Machine