Brief Introduction
Key Specifications/Special Features:
1. One machine for dual uses
Fiber cutting machine E-T model adds tube cutting function, meeting requirements for both plate metal and tube cutting. One machine for multiple uses.

2. Cutting control system
Fiber Laser Cutting Machine E-T model applies Bodor`s newly developed control system BodorPro which is more stable than traditional cutting system.

3. Application of novel technology
Application of chuck, independently designed and developed by Bodor, is another example of novel technology that remarkably improves cutting precision and working efficiency.


Bodor Exchange Platform Laser Cutting Machine 2000w has Intelligent travel protection function.Automatically monitor operation range of crossbeam and cutting parts, keeping operation within machining range. Bodor Exchange Platform Laser Cutting Machine 2000w is suitable for cutting carbon steel, stainless steel, aluminum, brass and alloy metal materials.And it meets the parts processing requirements of most industries, working accuracy is stable.
Features
A cast iron bed lasts forever.
Gear drive,10 s exchange, No.1 in the industry.
Auto focus laser head.
Mango wireless remote control handle.
Auxiliary gas low pressure alarm function.
WIFI remote intelligent assistance.
Integral steel mold pressure casting, light, flexible and efficient.
BodorPro 2.0 Automatic tracing-edge, dual-use for plate and tube.
The heavy bed makes the equipment more stable in working.
Auxiliary feeding mechanism.
Intelligent travel protection.
Intelligent alarm system.
Technical Parameter
Model: E3015T E4020T
Working Area: 3000*1500mm 4000*2000mm
Laser Output Power: 4000w/3000w/2000w/1500w/1000w
Effective Pipe Cutting Diameter: Φ20-Φ200mm
Effective Square Tube Cutting Diameter: □20*20-□140*140mm
Rectangular tube Min. Edge Length: ≥20mm
Max. Outer Circle Diameter: ≤200mm
Effective Pipe Cutting Length: 3m/6m
X/Y/U-axis positioning accuracy: 0.03mm
X/Y/U-axis repositioning accuracy: 0.02mm
X/Y-axis Max. linkage speed: 100m/min
U-axis max.moving speed: 30m/min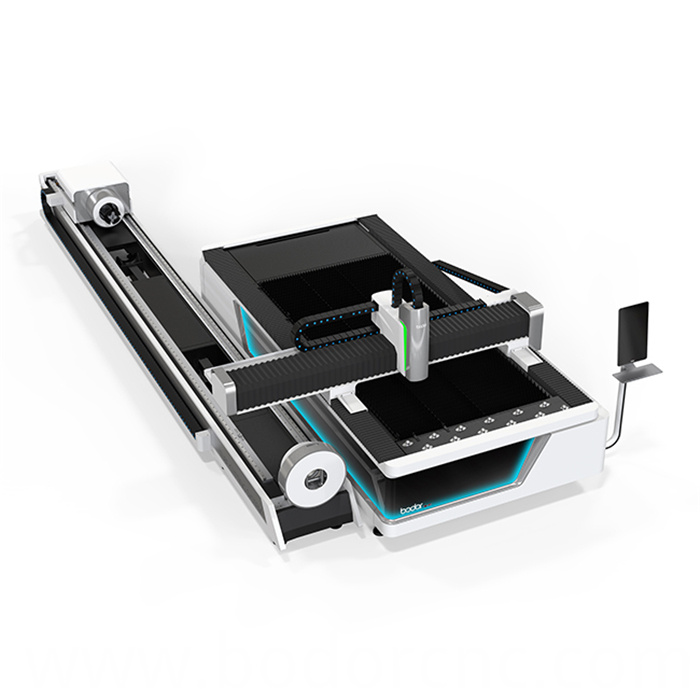 Product Categories : Laser Cutting Machine > Metal Sheet And Tube Cutting Machines