Brief Introduction
P-A Series Automatic Loading Laser Cutting Machine: Automatic material loading and unloading platform, to save manpower, improve processing speed and efficiency.
Safe and environment friendly Fiber Laser Cutting Machine P model, strictly complying with Europe stand to apply full protection cover made of paint glass, effectively protects the operator from any damages during operation.
Full automation Fiber laser cutting machine P-A model, facilitated with automatic loading and unloading system, can greatly save manpower, processed materials and reduce production cost. Integrated casting machine body The sole manufacturer applying integrated casting machine body which is featured with rigidity, stability and anti-shocking property.
20mm Metal Laser Cutting Machine adopt Bodor Lightning technology, perforation time is short, 90% of perforation time is saved;Bodor Lightning combined with Bodor Genius improved new process so that the perforation is not affected by the material quality and achieve perfect cutting with the best cutting section; saving cutting gas and electricity, saving cost. This laser cutting machine is suitable for cutting carbon steel, stainless steel, aluminum, brass and alloy metal materials.
Features
A cast iron bed lasts forever.
The machine accuracy could maintain for a long time, and no deformation in a life cycle.
Focal point will be automatically adjusted in cutting process to achieve the best cutting effect of different thicknesses sheets metal.
Integral steel mold pressure casting, light, flexible and efficient.
Independent R&D operating system, perfectly combines high efficiency and simplicity with inclusiveness.
Automatic loading and unloading, time saving and labor saving.
Gear drive,10s exchange, No.1 in the industry.
Intelligent travel protection.
Auxiliary gas low pressure alarm function.
WIFI remote intelligent assistance.
A new generation of safety following module.
Technical Parameter
Model P3015A
Working Area 3000mm*1500mm
Laser Output Power 6000w/4000w/3000w/2000w/1500w/1000w
X/Y-axis positioning accuracy 0.03mm
X/Y-axis repositioning accuracy 0.02mm
X/Y-axis Max. linkage speed 140m/min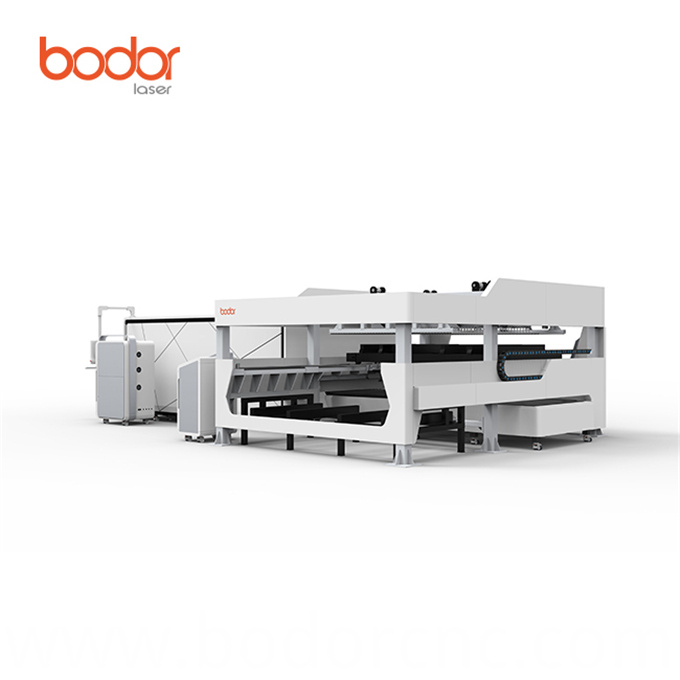 Product Categories : Laser Cutting Machine > Laser Metal Sheet Cutting Machines